If you like to hike and swim in magical places then this is the place for you.
Montanejos is a municipality of Spain located in the province of Castellón, Valencian Community. It belongs to the comarca of Alto Mijares. The municipality spans across a total area of 37.80 km2 and, as of 1 January 2020, it has a registered population of 564.
Montanejos is a charming town that coexists with the surrounding nature and offers spectacular natural spaces. It is a municipality located in the Region of Valencia, in the interior of the province of Castellón. This place in the Alto Mijares region is a place that invites you to disconnect, rest and connect with nature. This inland town is characterised by its wide variety of hiking routes and points of interest along the river Mijares. But without a doubt, one of the essential things to see in Montanejos, Spain, is its natural pools and springs. This village is a place where it is worth a weekend getaway, in search of tranquillity and landscapes that offer an authentic visual spectacle.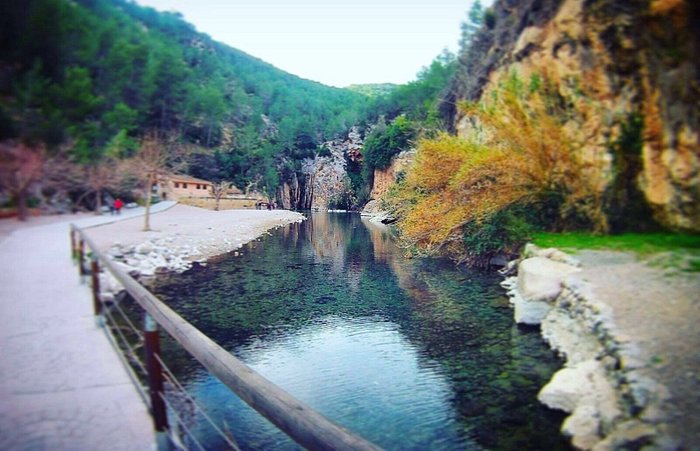 Things to see in Montanejos.
Montanejos stands out for its natural wealth. Also, for the spectacular natural viewpoints located in numerous corners among its routes, from where you can admire magnificent landscapes to see in Montanejos, Spain.
The path along the river Mijares
Starting from the village of Montanejos, you will find up to 10 different hiking routes that offer a long list of privileged stops for the view. There is a great variety, for all levels and tastes. All of them have a route through nature where you can breathe and enjoy the path. One of the most famous and popular routes is the so-called Family Trail. This route starts in the village and covers a distance of 4.7 kilometres. This is a route suitable for all members of the family, with little slope. Also, it has a stop at the Cueva Negra and finally enters the Chillapájaros strait.
The Black Cave
After a short walk from the start of the route, in the middle of a leafy forest, this cave known as Cueva Negra (Black Cave) stands out. It is a large cave, with an entrance measuring 26×10 metres. It has a large surface area, making it one of the largest caves in the Valencian Community. In addition, this cave is of great geological interest due to its layout. Formed by large blocks, the position they have adopted over the years has led to the formation of different galleries inside.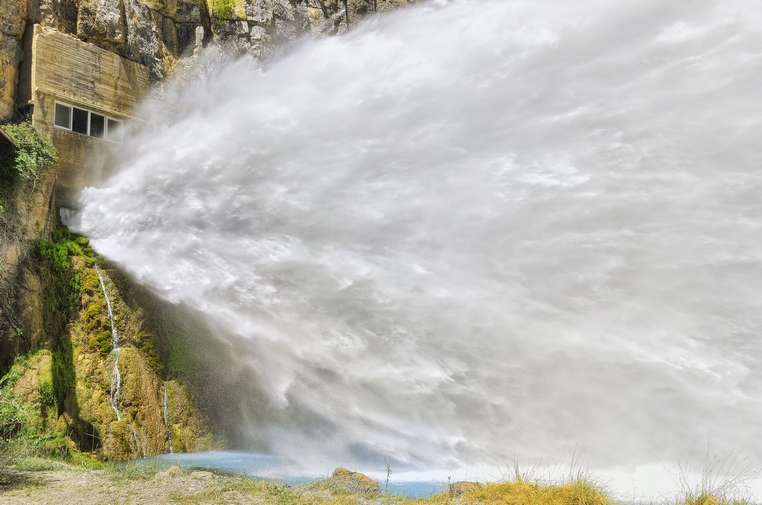 Fountain of the Baths
The Fuente de Los Baños is a spring that has become one of the main attractions of the town. With a flow of approximately 6,000 litres per minute, its water was declared of public utility by Royal Order in 1863. In addition, it has great hydrogeochemical and biological properties, which have been considered very beneficial for health. With a constant temperature of 25ºC, it is ideal for bathing all year round. The Fuente de Los Baños is the essential place to see in Montanejos. It is the soul and essence of this town.
The Hermitage
Located in the hamlet of La Alquería, belonging to Montanejos. The Hermitage of the Virgen de Los Desamparados dates back to the 17th century. It is one of the points of interest to see in Montanejos village. This image stands out for its bell tower and portico.
It has a structure made up of small side chapels, concentrated in a single nave. Also, the tiles in the bell tower, are remarkable for their unquestionable beauty. They date from the second half of the 17th century. This is an essential spot to see in the area around Montanejos, Spain.
What to eat in Montanejos, Spain?
Montanejos, as a town in the Region of Valencia, has a wide variety of typical dishes that make a visit to this town an extraordinary experience. The traditional cuisine of Montanejos is characterised by recipes devised for a population that lives in a mountainous environment. Some of the typical recipes to try in Montanejos are: la olla, la fridura, el potaje, homemade preserves, las gachas, as well as all the handmade products. It also stands out for its robellones, and olive oil.
As far as sweet recipes are concerned, it is worth mentioning the famous mantecados. Also very typical in this region are dulce de membrillo, pan quemao, monas de Pascua (Easter cakes) and pan de higo (fig bread). Another typical dish to be found in Montanejos is almendras garrapiñadas (sugared almonds) and figs albardás. Of course, you can't visit its incredible landscapes without first trying some of its charming dishes and sweets.
Where you should go in Montanejos.