Montjuïc
The Montjuic is 213 meters high and was strongly affected by two large events that occurred in Barcelona. The first being the 1929 World Fair and the second the 1992 Olympic Games. The 1929 World Fair brought about the building of the Barcelona Pavilion by German architect Mies Van de Rohe, towering over that, the spectacular Palau Nacional. Montjuic is not only a hill with nice views. Two of the best art museums in town are there – MNAC and Miró.
La Sagrada Familia
The construction of the Sagrada Família began 1882 under architect Francisco de Paula del Villar but still it is under construction and is not expected to be completed until 2026. The Expiatory Temple of the Sagrada Familia is the final construction in Gaudí's career, a unique place in Barcelona that will become the highest Basilica in the world once work has been completed. A Gaudí masterpiece that has been under construction for over one century. The part built by Gaudí was declared a UNESCO World Heritage Site in 2005.
Park Güell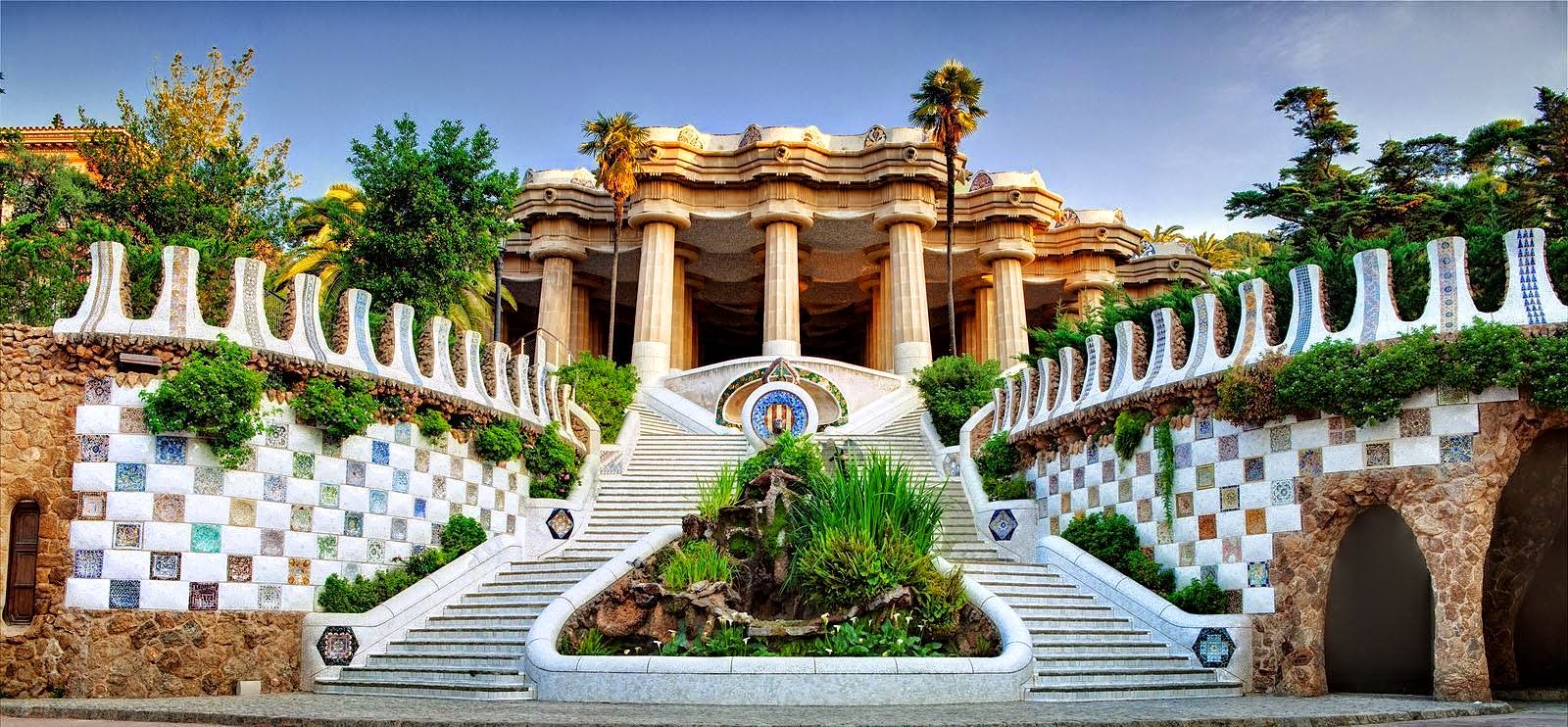 This green space measures 17 hectares and includes rounded forms, columns that look like tree trunks, animal figures and geometric shapes. Most of the architectonic elements are decorated with mosaics made from colourful ceramic pieces. The architect, inspired by nature, decorated the park with exquisite structures that imitate natural forms where neither rigidity nor classicism exists. All the element's sinuous and colorful forms are influenced by symbolism, both political and religious. In 1984, it was declared a World Heritage Site by UNESCO.
La Rambla – Mercat de la Boqueria
Barcelona's most famous street was once a dry riverbed. Now, La Rambla is a 1200-meter boulevard, and a major draw for visitors. During the day, La Rambla fills with pedestrians, some of which stroll past impressive human statues and artists while others take a break to people-watch while enjoying a drink at one of the many terraces. Housed here is the iconic Boqueria Market that offers one of the most varied and appetizing selections of local produce and specialty meats and treats.
Where you should go.
Montjuïc
La Sagrada Familia

C/ de Mallorca, 401, 08013 Barcelona

Park Güell
La Rambla – Mercat de la Boqueria Familia

La Rambla, 91, 08001 Barcelona